A North East drone specialist is scaling new heights after investing heavily in its own manufacturing facility.
heliguy™, based in North Shields, has established itself as a go-to drone supplier for clients across the globe since its launch in 2006.
The company started life as a retailer of remote-controlled helicopters but has since grown into a full-service drone specialist, providing drones, bespoke accessories, servicing, repairs, custom integrations, product development, drone pilot training and end-to-end workflow support.
Over the past two years, this diversification has seen the company secure contracts with 38 police forces across the country, as well as the London Fire Brigade, Port of Tyne and a host of personal and commercial clients.
One recent project, for a police force in the South East of England, saw the company's design experts produce a bespoke drone mount, allowing officers to test mobile phone and radio signal strength in hard-to-reach areas such as farms and rural roads.
Another design and manufacture project, working with a commercial client – Aerial Ashes – resulted in the team developing a safe, sensitive way of scattering ashes at beautiful and memorable locations, such as out at sea or on mountain peaks.
This expansion of its services – and the establishing of a dedicated manufacturing hub at its Orion Business Park base – has not only led to the company onboarding more clients, but also more staff, with its headcount in North Shields now at 28.
Ross Embleton, custom integration specialist at heliguy™, said: "We identified a gap in the market – quite early on – when the drone market was just maturing and swiftly established ourselves as one of the UK's leading independent providers of drones and accessories.
"Since then, we've continued to invest in the business year-on-year, ensuring we continue to service our clients to the highest possible standard and continuing to create job opportunities for local people."
Central to bringing product development and manufacturing in-house and growing the business has been a suite of state-of-the-art 3D printers that has allowed heliguy™ to design and produce parts at its North Shields facility, helping to slash lead and prototype times while reducing costs.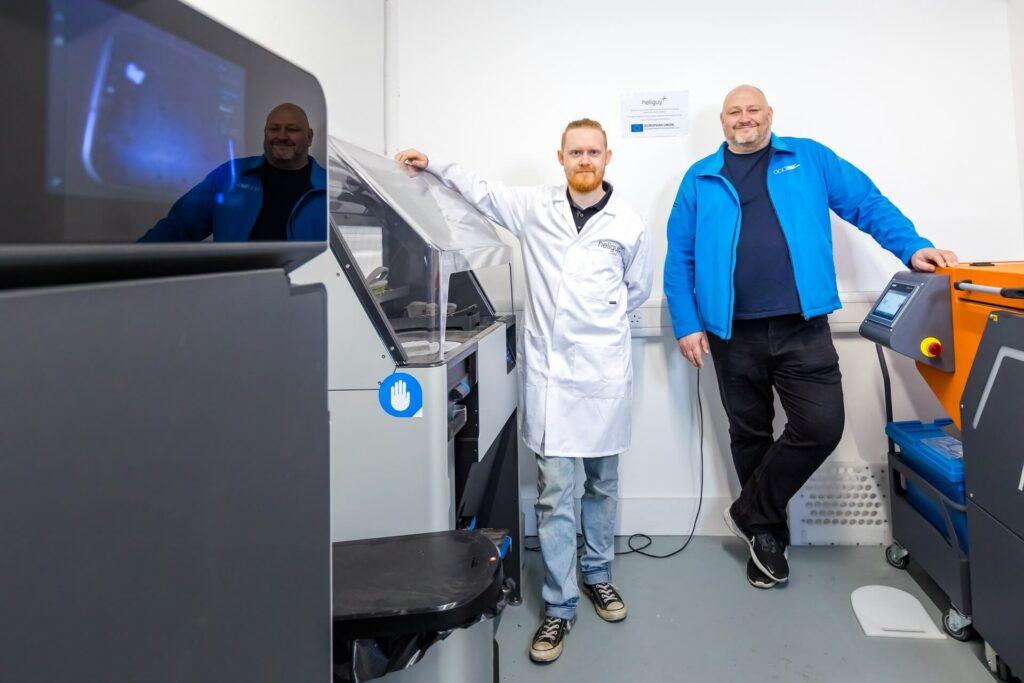 The company purchased the printers after receiving technical support and a grant from the £10.9 million Sustainable Advanced Manufacturing (SAM) Project, which is a collaboration between European Regional Development Fund (ERDF), University of Sunderland, the Northern Powerhouse Initiative and Industry, set up to support North East (LEP) SME manufacturers to explore and introduce new technology to improve their products or processes.
The funding supported the purchase of a market leading Markforged X7 3D printer, which allows the company to print parts in reinforced carbon fibre and Kevlar and will work alongside its selective laser sintering (SLS) machine and a Formlabs Fuse 1 3D printer.
The firm also purchased a Form 3L SLA 3D printer in November and aims to acquire a number of surface finishing machines over the coming months as it continues to invest in its design and manufacturing capabilities.
Ross added: "Bringing the production of our components in-house was key to us broadening our horizons and expanding into new markets and the support we received from SAM has been key to helping us do that.
"Carl [Gregg] was fantastic as he really bought into the concept. After working with him to identify which areas of our business could benefit from additive manufacturing and which 3D printers would be best suited to our needs, we went on to buy a state-of-the-art Markforged composite printer that has helped us significantly slash costs and lead times.
"It has massively reduced design times too. Now, if the managing director or a client has an idea, we can create a physical, working prototype within a week as there's no waiting around for third party suppliers.
"Aviation parts also need to be strong and light, therefore being able to print parts in carbon fibre and kevlar on the Markforged printer is a huge benefit to us. It's really helped us to step our business up a gear and we can't thank Carl and the team enough for all of their support."
Carl Gregg, product and process design specialist at the SAM Project, said: "As a team of engineers who thrive upon helping businesses overcome challenges to growth, it was fantastic to work with heliguy™ and to become so involved in helping them plan for the future as they continue to innovate and grow and create jobs here in the North East.
"The SAM Project was set up to help the region's SME manufacturing base improve products and processes by adopting new technologies such as additive manufacturing and heliguy™ is a prime example of just how much of a positive impact the project can have."